A Festive Film for 2020 from Manchester Theatre Academy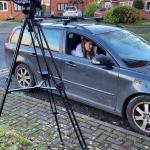 Join us for our festive film fundraiser 'Tales of the Unexpected Covid Kerfuffle' and help keep the arts alive for our young people. In lieu of our Christmas show, we needed a project and this has been an amazing journey, learning a brand new skill set for our students at MTA. This project has kept us going through unprecedented times and we have managed to keep that sparkle for the arts growing inside.
We know times are hard for everyone and we are not the only ones in need of funding to keep our projects going, we just ask that you give whatever you can as a donation and support the work that has gone into this. It's important to give our students a chance to perform to an audience, even though our live show was not possible.
---
What's it all about?
Tales of the Unexpected Covid Kerfuffle follows a youth group led by Ste and Lou, during the pandemic. Lou's friend Primrose is roped in to help channel the pent up anger, with some motivational moves and singing. Backstories unfold as we see flashbacks from lockdown and the consequences on return to youth club.
Emotions run high…
The Classic love triangle
The (Covid friendly) ferocious fight
The leaders trying to spread their festive cheer, against all odds
---
---
Click here to get your link to our Premiere on YouTube. Not free today? Don't worry once premiered, the film will be available for a week. For parents wanting a keepsake, we can give you a DVD for a small fee.
Of course we couldn't have done this without two amazing young people, who always get on board with my crazy ideas. Chris and Billy. Since starting work at Hartshead Productions Billy has learned lots of new skills to bring to drama and he creates and edits films for theatres and schools amongst other requests. We would like to thank Hartshead productions for allowing him to film our show with all the equipment necessary, to feel like our budding actors were on set. OOOh the glamour…As for Chris, he's a real rock- learning camera techniques, making prop lists, doing some directing and just being there for everyone.
Thanks also goes to Droylsden Little Theatre, our home, where creativity thrives. Unfortunately live shows cannot go on at the moment so the theatre has been dark since Covid hit. We have been lucky it's been open to us as a youth theatre and we're trying to spread the light and keep the home fires burning so to speak.
Never has there been a greater call for flexibility and improvisation skills and our students have taken this on board, working as a team. We are very proud of all their achievements this term, amidst Zoom rehearsals, new rules and restrictions, and emotions running high. Our film works through some of these ups and downs, bringing out humour alongside an element of pathos.
Credits
Performed by
Lou – Amy F
Ste – Billy
Emily – Lily
Elle – Alyssa
Kyle – Evan
Sam – Jack
Meg – Molly
Carla – Daisy
Jenna – Evie
Primrose – Alice
Sadie – Danielle
Bobby – Josh
Luke – Niall
Beth- Portia
Lizzie – Scarlett
Emily – Amy Lea
Jessie – Alex
Roxy – Isabel
Charlotte – Daisy C
Lucy – Olivia
Hope – Isla
Joe – Charlie
Lola – Megan
We missed Lily, Annabelle and Jonah, who were very much a part of the improv that inspired our show but unfortunately could not make the filming sessions for Covid related reasons. We look forward to having them back with us in January.
On Camera – Billy power and Chris Astle
Directed by – Chris Astle, Billy Power and Jayne Skudder
Written by Jayne Skudder, inspired from improvisation
Produced by Billy Power